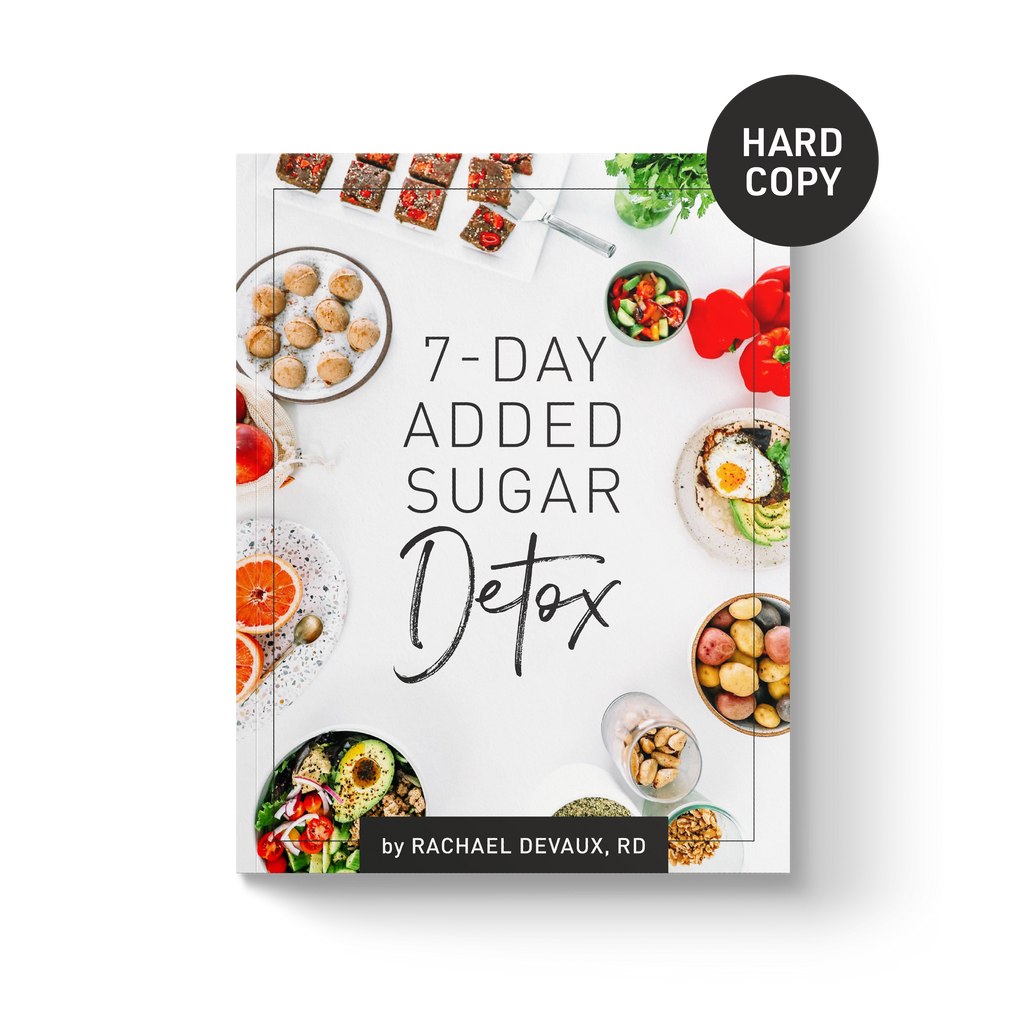 If you've completed one—or more—of these added sugar detoxes with me in the past, you know how rewarding it can be! (And how each detox is easier than the last.) If this is your first time doing any sort of sugar detox, I'm thrilled you're taking on the challenge! Either way, you can reap the benefits of removing added sugar from your diet for a week.
The detox itself is seven days, but this program is about a week and a half long to include your preparation for the detox and your transition back to normal routine after it. You'll gain a better understanding of the foods and drinks you're choosing as fuel for your body and become more aware of the ingredients in them. You're sure to be surprised by how much added sugar you're consuming on a daily basis, and you'll begin to appreciate the taste of natural sugars so much more. The goal is for you to finish the detox with a new understanding of the added sugars in your diet, and for your tastebuds to evolve so that you crave less sugary processed foods :)
Recipes are all gluten-free and dairy-free with an option for grain-free :) I encourage you to use whatever proteins you'd like, especially if you follow a vegan or vegetarian diet.
*With purchase, you will also receive the digital e-book version sent straight to your email!*
Great for beginners
First time doing the added sugar detox and the physical guide was so nice to have handy to reference for nutrition label review and creating recipes.
Practical for the real world
I am on day 4 of the detox and aside from some minor mood swings this has been a really doable detox. Unlike other detoxes where you cut out all sugar, this one only cuts out added sugar so you can still enjoy healthy foods that contain natural sugars. I will definitely be doing this again. Also, the recipes are so good! I have loved all of them so far; they are healthy without sacrificing taste or flavor.
Life changing
Great education to prepare you for the best sugar detox and healthy eating in general. She makes it so easy to be successful. A great gift for anyone.
7-Day Added Sugar Detox PHYSICAL COPY
Love the physical copy!!!!
I had printed out my own version already, but my husband got so tired of all the pages fluttering around our kitchen counters haha. SO nice to have the physical copy in one, beautifully photographed book. Will use for years to come!