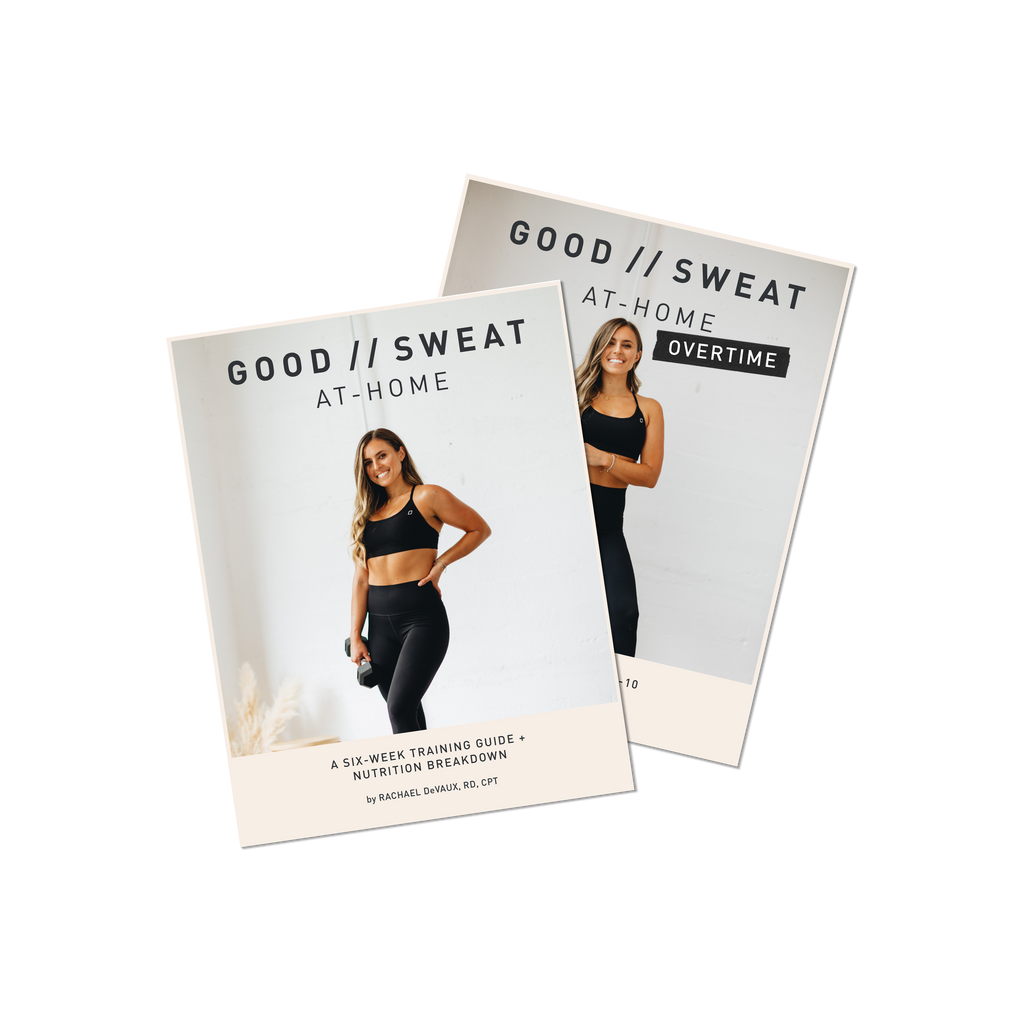 After 6 months of getting creative with at-home workouts, I was inspired to create a program you would feel confident in doing at home that would push you to be the strongest and happiest version of yourself. With this digital download, you will be getting one PDF sent straight to your email that includes my comprehensive 10-week training guide and nutrition breakdown (check spam or 'promotions' tab in gmail if you don't see it right away. Email info@rachaelsgoodeats.com with any issues). It has everything you need to take control of your fitness and nutrition routine from the comfort of your home; no gym or crazy equipment needed. Just two dumbbells and a chair or bench.

WHAT YOU GET WITH THIS COMPREHENSIVE GUIDE:
- the original WEEKS 1-6, plus OVERTIME, the 4-week extension program
- 50 progressive workouts total that offer Full Body, Upper Body, Lower Body and Challenge workouts to switch things up
- Photo + video demo of each exercise
- Access, support and Live workouts from the private FB community
- Complete nutrition breakdown from a registered dietitian, Rachael DeVaux, RD
- Printable goal sheets to hold yourself accountable
- 143 pages of content
EQUIPMENT NEEDED:
- two sets of dumbbells (light and medium weight)
- chair or bench

All digital guides are final sale.
THE PROGRAM YOU NEED
I am so proud to say that I just completed this 10-week challenge while doing my student teaching my senior year of college! Having consistent, ready-made workouts helped me move my body as much as possible during this busy time. On top of student teaching full-time, which is unpaid, I worked a part-time job on campus, so my schedule was already very busy. I saved my money to invest in this guide, and it was the BEST decision I could've made!! Student teaching lasts about 16 weeks, so this guide was my rock for 10 of them, and I am already on my second time through. I knew staying active was important, but I never could've guessed all the benefits beyond the physical ones. I have more energy during my days (which definitely helps with being around kids all day), my mood is elevated, I get better sleep, and I experience less stomach problems related to stress. I also have a better overall understanding of health and the right habits to build while working out. Thank you Rachael for this holistic, challenging guide and for being my savior during my last semester of college! Forever grateful <3
10/10 RECOMMEND!
Honestly, the best thing that ever happened to me!
I grew up as chubby Indian kid with a constant backlash that you can't lose weight, blah, blah! When I found Rachael's workouts, I had the mindset but with the constant motivation she provided via IG Lives I was able to up my workout routine and be in the best freaking shape of my life in 2020 (still am!!)
Started with Rachael's IG lives then I purchased this 1.0 and Overtime bundle. Few good things - for me as I get bored pretty quickly - NO TWO WORKOUTS ARE THE SAME! This is a blessing because you won't know what hit ya and I haven't been in a plateau ever since.
For reference - I have lost about 15KGs; following an Indian diet; did 2X RGE DETOX and 3X 1.0 and 2X Overtime and a few 2.0 workouts from Facebook group and IG.
All I can say is - THIS IS A WORTHY INVESTMENT. Do it for YOU!